Retrospective 3.0.0 has become reality
Retrospective 3.0 is out and it's bigger, faster and better. Version 3.0 brings new looks and a lot of new features. As the user interface is an essential piece of the user experience puzzle, new Retrospective simplifies the design making it even more practical and convenient to use. I'm sure you'll like the new icons and general improvements and the overall look and feel. But the 3.0 is not only about the looks. Not at all. It sports new features and many improvements to deliver the best log files searching experience in existence.
Operating systems
As of 3.0, Retrospective is available for IBM AIX, HP-UX and Solaris operating systems so there's very little chance that you're running an OS which is not supported by officially released binaries. In addition to these three systems, Retrospective also supports Mac OSX from the remote hosts perspective allowing to access log files stored on their file systems.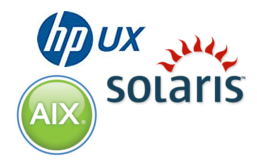 The other operating systems haven't been forgotten: Ubuntu, Debian, CentOS Fedora, Suse and FreeBSD have also been improved.
Improvements of version 3.0.0
A big change that has been implemented is the improvement of searching and tailing logs stored on different servers, running different operating systems in one unified view. An unfortunate result of this is that the column splitting functionality had to be removed as it didn't really fit in the picture. Performance improvements enabled increasing the maximum result data size limit from 20 MB to a whopping 1000 MB. Chances of seeing an error, due to the data results processing hitting that limit, are pretty low. With improved file format auto-detection, Retrospective is quicker when managing log sources definitions. Search and tail have now two modes that can easily be switched; simple for running quick basic queries, and advanced for more complex log files processing that require precise search parameters definition...

Redesigning and simplifying Retrospective has also affected the host manager. It's clearer and simpler now as it features the compatibility information area providing useful data on remote hosts connections. Furthermore, an option to cancel connection attempts, when it's obvious that it won't work due to misspelled authentication information or host address, has been included.
Believe it or not, this does not detail even half of the changes introduced in Retrospective 3.0. Get it now - log files searching doesn't get better than this...